Visualizing Repetition in T.S. Eliot's Four Quartets
Table of contents
Introduction
Long before becoming interested in computer science I was an English major. Continuing from that time to the present has been my love of T.S. Eliot's "Four Quartets". Both for fun and work I do a fair bit of Natural Language Processing (NLP) work and have been thinking of ways to combine these two interests in my life.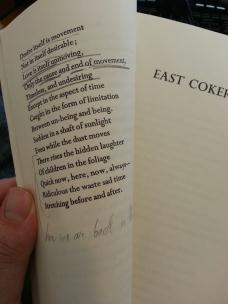 Everytime I read or listen to the "Four Quartets" I'm struck by the complex repetition of themes and verses. My dog-eared copy of the poem from college has many notes pointing out which lines reference which other lines. For years I've thought of manually graphing out these connections but I wondered if there might be another way.
So I decided to put my nlp experience to work and come up with a way to represent some aspects of this repetition visually
What you see here is a "cosine similarity matrix", the technical details of which are discussed after the poem. In straightforward terms what you are seeing is a grid where each square visually represents the similarity between any given 2 lines of the poem. The lighter the color the more similar the lines. This also explains the persistent diagonal line in all images, each square here show each lines similarly with itself (ie line 1 with line 1, line 23 with line 23 etc), which of course is a 100% match.
This visualization allows us to explore poetry and lyrical verse in a new light. Rather than scribble notes on paper, never really seeing the big picture, we can now visually understand the structure of repetition in a given work.
To see this applied to song lyrics, please checkout my
Vampire Weekend
Lyric Similiarity visualization.
Following is the full-text of "Four Quartets" with a visualization accompanying each section.
Four Quartets
Burnt Norton
East Coker
The Dry Salvages
Little Gidding
Technical Overview
Representing Text
Before we can ask the obvious question of "how do we define what lines are similar?", we need to ask the even more basic "how do we represent text?" in a way that we can manipulate computationally. In machine learning in general you usually want your data to be in a matrix, as this opens up many proven techniques for working with matrices.
Here we're going to start with the bag of words model. This makes the bold, but computationally useful assumption that we can throw out structure. So "Time present and time past" is identical in our model to "present time and past time". This should work well with poetry since, while structure is important, the language is so dense we can get a good insight into what is being said just by seeing the words.
So how do we make this into a matrix? We start by considering each line in the poem as a row, and then every single unique word in the entire collection of lines for all poems as the columns. For the bag of words model we simply put a 0 in the columns were the line does not contain a word, and 1 in the columns were it does.
For "time present and time past", the columns "time","present","and", and "past" would all have a '1' all other columns would be '0'. The end result would be a much larger (in both directions) version of the matrix below, where each row represents a line of the poem and each columns represents whether or not the line contains a specific word.
Term Frequency/Inverse Document Frequency
Now each line in the poem is represented as a vector of binary values, which is pretty useful for comparing them!
However there's 2 steps up from just that bag of words model that give us a little more info. We can start by taking into account term frequency.
Now for "time present and time past" the columns "present","and", and "past" all have '1', all the others have '0', except now "time" has '2'.
Finally we can add one other refinement which packs some more information into our vectors. It is also useful to consider how frequently a word occurs outside of a single line. For example "and" is very boring, but "past" may be more interesting. For our final modification we're going to take the inverse of the frequency that the word occurs everywhere else in the document and multiply that by the number of times it occurs in a specific line. The is final model is called a Term Frequency / Inverse Document Frequency (TF-IDF) matrix.
Determining Similiarity
We now have a pretty good numerical representation of the entire text of "Four Quartets", with each row in our tf-idf matrix representing a single line in the complete work. The problem we have now is how are we going to compare lines?
The key thing to remember is that each row, or vector, in our matrix can be seen as a single point in n-dimensional space, where 'n' is the number of unique words in our text. This means we can make use of some basic high school math to compare lines (this is why getting everything into a matrix in the first place is so important).
In many cases we might just want to use Euclidean distance to measure between 2 points, this makes sense and is useful in many cases. Below are the formulas for the Euclidean distance between points in 2d space (what you learned in high school) and the more general definition for n-dimensional space
However language is a strange thing, since we're using term-frequency in our calculation the sentences "die" and "die, die, die ,die" would actually be quite a bit apart in Euclidean terms, since the magnitude of "die" is very different in each line.
Another way to view vectors is not as points, but as lines (again in n-dimensional space) from the origin. Once again this view allows us to pull some tools from our high school math. Since our old problem was magnitude, we need a way to find out how close 2 lines, starting at the origin are that disregards magnitude. If you draw it out it's surprisingly simple: look at the angle between them.
We're going to do one more small trick which is to look at the cosine of the angle between the two vectors. This is nice not only computationally, but also because it gives us a value from 0 to 1, with 0 being if the angle is 90 degrees and 1 if the angle between them is 0 (meaning they are the same). This gives us what we call "cosine similarity".
Above is the formula for calculating the cosine between two vectors
If we then take the cosine similarity between every line and every line we get a new matrix, a cosine similarity matrix. If you add colors to represent that values from 0 to 1 you get exactly the visualization presented here.